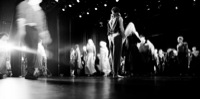 From September to June, the company reunites twice to three times each week for training sessions of about two hours, in the big hall of the Club Antonin Artaud.
Apart from preparing a performance, the weekly sessions and the entire creative process generate a highly inspiring space that is experienced thoroughly.
We generally create one performance each year, and meanwhile we also retake one of our previous performances.
The company welcomes everybody, including persons who were or have been dealing with psychiatric disorders.
The company also functions as school, providing an alternative pedagogical approach led by its director and trainer Farid Ousamgane. The company welcomes between 25 and 30 persons.